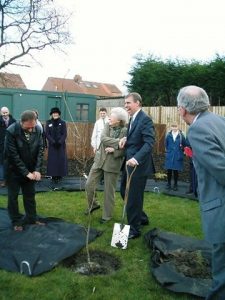 HISTORY
The Haxby & Wigginton Youth & Community Association is in large part the legacy of the hard-work and dedication of our founding chair, Eddie Benson MBE.
In 1998, in Haxby and Wigginton, youth vandalism with its related alcohol and drug issues was becoming a major problem.  Eddie organised both public and private meetings out of which was formed the Haxby and Wigginton Youth and Community Association (HWYCA) and led this organisation as Chairman until his retirement from its Board of Trustees in 2009 at the age of 74, although he still remained an active and enthusiastic volunteer.  Through his efforts the Association achieved charitable status, obtained a grant from the National Lottery, and was able to develop a team of youth workers, working in partnership with the City of York Youth Service.
Following the closure of Oaken Grove Primary School in 2002, City of York Council converted part of the school premises into a community centre and retained the school field as a sports field.  The converted building was then leased to the Trustees of Haxby & Wigginton Youth & Community Association to manage and fully maintain on a 99-year lease as the Oaken Grove Community Centre.  The new Centre was then opened by HRH the Duke of York in March 2005.